Rio Chow Kennels has produced many champions and several top winning dogs, since 1989. In the process, it has become one of the top Chow Kennels in the USA and has acquired international recognition for producing great quality specimens of the breed. Rio Chows is own by Rafael E. Rosario and Amy Young. The kennel is located in two geographical sites, Atlanta, Georgia where Amy lives and Rio Grande, Puerto Rico where Rafael lives.
In the lines that follow you can read about us, how Rio Chow was founded and how we got together as one Kennel: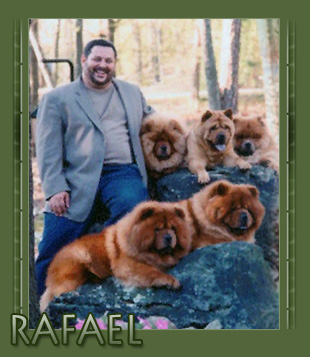 I am Rafael Rosario and founder of Rio Chow Kennels. I have owned (been owned by…), shown and bred chows since 1989. I truly love the breed, which includes every color, type, and coat.
As a teenager I participated in the sport of showing Paso Fino and Quarter horses. This gave me an advantage to know the sacrifice, dedication and discipline required for showing and breeding dogs.
Being a computer consultant sometimes I am between contracts. While in one of those occasions in 1989 and due to boredom, I decided to get a puppy. Like many other inexperienced buyers, I picked up the newspaper and saw an ad for chow puppies. This was a breed that I always liked because they looked like big cats and bears. So there I went and got me not one, but two black bitches. Following the purchase, I decided to check with the local breed club. To my surprise, they were having a specialty that same month. So I went to my first chow specialty show very excited and proud of my babies. After I saw the dogs in the show, I realized that my lovely babies would never look like the big cats or bears I was hoping for. Instead they will end up looking more like leggy black foxes, which it would have been ok, if I was not so gong ho into having dogs that look like big cats. With a broken heart and before I could get more attached to them I decided to find them a new home. Therefore I had them spayed before placing them. By then I had taken the bait, but this time I was determined to do it smarter.
Early on in my involvement with the breed, I set the direction and my goals. I wanted it all, the movement, good temperament and heavy/type dogs! So plans were made on how to get there. I prioritized and conclude that like any good construction engineer, who builds from the ground up, the most important thing to do was to build a great foundation for my work. Movement became my first priority, which is the final test of the Chow's conformation, balance and soundness (my foundation). In the first few years I acquired my two foundation bitches. Ch. Sarmar's Scarlett O'Hannah, known to everyone as Hannah. She was a small, very compact bitch, moderate type, with a great show personality and excellent movement. Every dog in her 1st, 2nd and 3rd generation pedigree were good to excellent movers and all the males on the top leg of the pedigree were BIS dogs. Hannah was bred several times, but she only produced two very nice puppies from two different breedings. The first one was a gorgeous black bitch (Voodoo). Unfortunately I lost her at 6 months, the day after going RWB at the North Texas Specialty with somewhere around 30 bitches entered. That was her first and only show. The second one which is a red bitch, Ch. Rio's Stormy Pywakit, is out of Sherrie Harper's Ch. Cherie's Task Force O'Komenah (Guns). She was a slow maturing dog, but has since gotten quite heavy.
My other foundation bitch is Ch. Wachia's Nothing to Hide of Rio (Sassy). She is a red smooth bitch that I fell in love with at the 1993 Atlanta Nationals and had to buy. She became the first smooth ever to finish her championship in Texas. The chow people in Texas did not like smoothes at all until her. She broke all the grounds in Texas for other smoothes to be accepted. She produced, when bred to Pam Davenport's Ch. Saison Hi-Risin Bisquit (Riser), a litter of 5 red puppies, consisting of 2 roughts/1 smooth males and 1 rough/1 smooth females. All 5 puppies finished their AKC championships. Three of them did it with 5 pt. majors. Out of this litter I kept MBISS Ch. Rio's Texas Hi-Riser (Tex). He was the first award of merit at the 1997 Nationals; first award of merit at the 1999 Westminster show, loosing only to his son; and ranked no. 8 in 1998, no. 7 in 1999 and no. 6 in 2000 (AKC/Pedigree Award System).
Tex was bred to Pywakit to produce what I set out to achieve nice movement with type and good temperament. They produced MBIS Ch. Rio's Go for the Gusto, ranked no. 1 in 1998, no. 2 in 1999 and no. 4 in 2000 (AKC/Pedigree Award System); and Best of Breed at the 1999 Westminster show. Also, out the same litter I got Ch. Rio's This Bud for You (Bud). He is a beautiful dog, very similar to Gusto and has become very important in my breeding program. I perceive that one of his kids will be our next ranked boy.
As time went on, with the urge to expand the scope and admitting the limitations of a one-man operation (owner/handler/breeder), in 1999, I decided that it was time to take on a partner in crime. There was this interesting young lady that have joined the Chow Chow Fanciers of Atlanta Club. She was involved with rescue, obedience/agility and was taunting with the idea of showing in the conformation ring. Her name is Amy Young. I saw her as someone that I could teach what I have learned over the years handling in the conformation ring and breeding; and she could expand the kennel to do some obedience and agility. So in early 2000, Amy jumped with all her energy to become a new partner to Rio Chow Kennels. Within the first three months of our joint venture, she trained the first Rio Chow Kennel dog to win high in Trials at the 2000 Nationals. She did it with a 7 month old puppy, that later became her first AKC conformation champion, Ch. Rio's Rock Around the Clock, Cd (Rok). She is currently working with a cinnamon bitch, Rio-Robmoor's Frosted O's (Frosty), that we hope to become the first Rio Chow to get titles on conformation, obedience, agility and tracking. With these said, I will let Amy on her own words introduce herself and give you a synopsis of her experiences.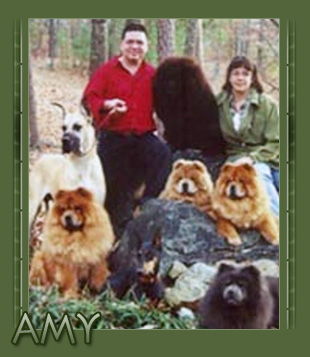 "My name is Amy Young. Eddie, my husband and me, live in Acworth, GA just outside of Atlanta. I have a degree in music education, taught school for 4 years, was a nanny of 7 kids for 4 years, was in the Air National Guard for 6 years, and now, I am a professional groomer, in a Pet Grooming Shop that I co-own. I have always worked with animals while growing up on a dairy farm in Michigan. I got my first dog, a Doberman bitch, 4 1/2 years ago. When we bought our house, my husband was out of town a lot and I wanted dogs around for protection. I wanted to get a Boxer, but Eddie said they drooled too much, instead we decided on a Doberman (Dante). Thank goodness I did, because now I think the Boxer temperament is not for me. Anyway, not knowing any better I looked in the paper and found puppies nearby, went and looked at them and picked Dante, because I liked her markings the best. Boy did I get lucky on that pick. Soon after getting her, my husband got his dog, a blue Chow (Allegro). When they were about 8 months old I enrolled in a basic obedience class. Went through the 8 week course and found out, that you could go on, to an intermediate class, if you wanted to get ready for competition. Competition? You can compete doing obedience? Growing up I didn't have cable and during college I was too busy to watch TV, so I never even knew there were dog shows. I had shown dairy cows in 4-H for 8 years, but didn't know that you could do it with dogs, especially in obedience. So on to intermediate course we went. My husband was in school and it gave me something to do in the evenings. Then I found out about agility. Wow, that looks like fun too. We got off to a slow start. It seemed that everyone was graduating from the beginning class but me. Allegro got a knee injury so he was out for 6 months, so Dante got all my attention then and away we went. Eventually, I was asked to help with a beginning class. That is where I learned the most. If you want to know how to do something well, try to teach it to someone else. It makes you pay attention to details. I would go home and do research on techniques to better prepare myself.
Finally, we went into the competition ring for the first time. We completed our obedience CD titles in 3 shows. Soon after that was our debut in agility. Both of my dogs qualified on their first day. My head was getting large by the minute. I was 5 for 5, but it didn't last. We made it through novice OK, but the Open Class gave us fits. Allegro was running around the ring like a chicken and Dante had no care for contacts. It took me until the end of our AX to decide that I didn't like the "risky" approach to the contact obstacles. Totally retrained Dante to stop on the contact, until she was released on command. It costs us a few seconds per run, but now at least our Q's (qualifying) are more frequent. We have our MX , MXJ and are halfway to our MACH - 11 Double Q's and about 425 points. Dante and me finished number 10 in 2000 in agility and hope to finish number 4 in 2001. We are also competing for our UD but haven't qualified yet. Dante does obedience for me and in return I take her to the agility trials and let her have fun. She is a totally different dog in each ring. Agility is her passion.
Then, I got a Great Dane (Echo), also competing in agility at the open level and recently got his conformation championship (ha, ha, … there goes the "to much drooling" out the window). I also got my first Rio Chow, Rok, who became my first obedience High in Trial and conformation champion. I guess I like variety."
Ok, now you see why I thought Amy would be such a good partner to my kennel. I get tired just from hearing the story and everything she is involved with. Not to say, you need to see her and be around during a dog show. By the time the show is over, I am worn out from seeing her run from the obedience, agility and conformation rings. Not to mention what it does to my nerves sometime when her schedule is very tight, but then, somehow she always manage to make it in time.
Rio Chows Kennel continues to look forward in the pursuance of excellence. Each challenge to produce healthy and dogs closer to the standard is viewed as an opportunity.